SELL ON JAPAN'S #1 ONLINE SHOPPING MALL
Rakuten Ichiba's Strength

Rakuten Membership Program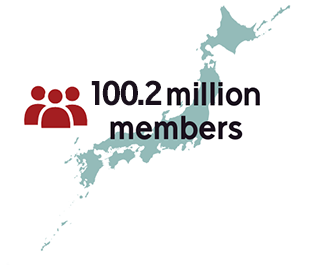 Rakuten has over 100 million members in Japan alone which is nearly 80% of Japanese population. Overseas sellers can tap into one of the largest customer base online.
Rakuten Super Point Program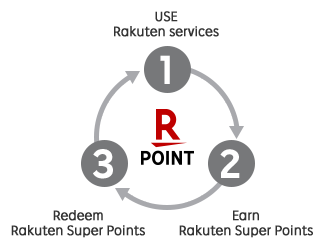 1% of purchase spent in Rakuten is redeemed as Rakuten Super Point to purchasers. 1 point is equivalent to 1 yen in value. Rakuten users can use and save the point not only in Rakuten's online shopping site, but also in group company services such as online travel and even in real stores like McDonalds.
This unique loyalty program attracts new users and retains in the ecosystem.
Three Benefits of Opening a Shop in Rakuten
Rakuten dominates the online market in Japan. It has over 25% of online B2C market and 30% + in categories such as apparel, food, and household accessories.

A dedicated E-Commerce Consultant (ECC) will be assigned to your shop to maximize your potential on Rakuten. ECC will provide the latest market trends and tailor sales strategy for you.

Rakuten is a shop centric marketplace in which merchants can control their own storefront, product pages, and customer experiences. Merchants are able to conduct CRM activities to first time purchasers and nurture them into repeaters.
Onboard Schedule
It takes about 1.5 months to begin set up everything and start selling in Rakuten.
Please contact us for more details becasue requirements may vary depending on the origin country.
Onboard consultant team specialized for overseas business will guide you to prepare materials to submit for company screening. Once you pass the screening, you can begin creating a store in Rakuten.
Set up storefront and register items on
RMS (Rakuen Merchant Server).
The shop-open adviser will help you set up.
A dedicated E-Commerce consultant works along with you to plan actions to achieve your sales goal.
Fees and Criteria for Differnet Types of Entity
US Entity
If you are a U.S. entity, you may choose from two plans below.
Fees for US Entity
Japan Market Shop Plan MEGA
Japan Market Shop Plan
Registration Fee:
One time registration fee
¥60,000
¥60,000
Monthly Fixed Fee:
¥100,000


Payable every 6 months

¥50,000


Payable every 6 months

Contract Period:
1 year
1 year
Listing Capacity:
Unlimited
Up to 20,000
System Commission:
(for purchase made via PC)
3.5 〜 5.0%


+0.5% via mobile

3.5 〜 5.0%


+0.5% via mobile

System Enhancement Charge:
0.1%
0.1%
*Affiliate Fee:
2.6% 〜
2.6% 〜
Card Payment Fee:
4.0%
4.0%
*Affiliate fees are bound to charge based on sales which come from our affiliate service partners.
The fee is calculated based on the affiliate fee table.
Please ask more about it to Rakuten sales representative.
Entities from Other Countries
Sellers without a Japanese or US entity need to sign a contract with service partners approved by Rakuten.
The third party partners will act as your local team to help you set up Rakuten store and provide operational support.
For more details, please contact us.
Shop Open Scheme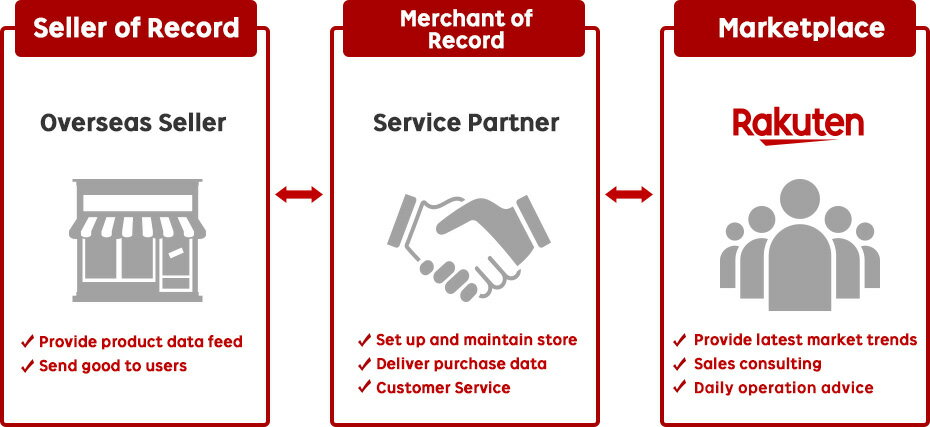 Japanese Entity
If you have a Japanese entity, you may choose from one of four plans below.
Goods can only be shipped from a warehouse in Japan.
Fees for Japanese Entity
Mega Shop Plan
Standard Plan
Beginners Plan
Lite Plan
Registration Fee:
One time registration fee
¥60,000
¥60,000
¥60,000
¥60,000
Monthly Fixed Fee:
¥100,000


Payable every 6 months

¥50,000


Payable every 6 months

¥19,500


Payable annually

¥39,800


Payable quaterly

Contract Period:
1 year
1 year
1 year
3 months
Listing Capacity:
Unlimited
Up to 20,000
Up to 5,000
Up to 5,000
System Commission:
(for purchase made via PC)
2.0 -4.0%
2.0 -4.0%
3.5 - 6.5%
3.5 - 5.0%